This is a hearty chicken dish, that makes for an easy meal and great leftovers as well. This recipe could also easily be adapted for a slow cooker.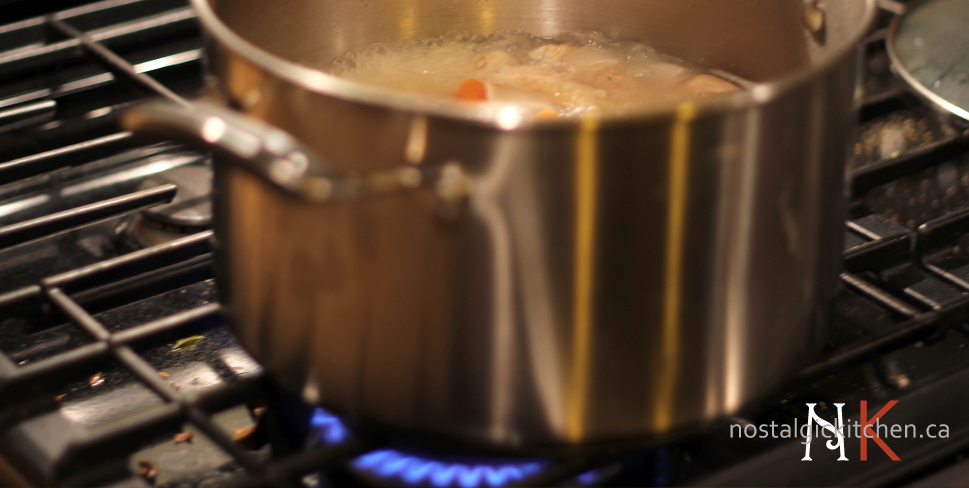 PREP TIME: 

20 min

   COOK TIME: 

1h

   TOTAL TIME: 

1h 20 min

   YIELD: 

6
Ingredients:
1 whole chicken
salt pork, diced (or substitute bacon), roughly 1/3 to 1/2 cup
3 carrots, chopped
3 ribs celery, chopped
1 large onion, chopped
2 1/2 cups Yukon gold potatoes, peeled/chopped/diced
2 tsp dried savory
salt and pepper to taste
6 cups low sodium chicken broth
2 ice cubes
Dumplings:
1 ½ cups all-purpose flour
1 tbsp baking powder
1 tbsp chopped fresh parsley
½ tsp salt
2 egg yolks
Discarding back, cut chicken into 6 pieces (2 breasts, 2 legs, and 2 wings); set aside.
In large dutch oven, sauté salt pork (or bacon) over medium high heat until golden, about 4 minutes. With slotted spoon, remove pork and set aside.
Add chicken pieces to pan; brown all over, about 8 minutes. Transfer to plate, set aside. Drain all but 2 tbsp fat from pan.
Reduce heat to medium; cook carrots, celery and onion, stirring occasionally, until onion is softened by not coloured, about 3 minutes.
Stir in potatoes, savory, salt, and pepper; cook, stirring for 2 minutes. Return chicken and salt pork to pan, stir in water. Bring just to boil, skimming foam from surface as needed. Reduce heat, cover and simmer for 45 minutes.
Place ice cubes in glass measure. Pour in enough of the cooking liquid to make 2/3 cup; let cool.
Meanwhile, with slotted spoon, transfer chicken to plate; let cool enough to handle. Pull meat from bones; discard bones and skin. Coarsely chop chicken. Skim any fat from cooking liquid; return chicken to pan and bring to simmer.
Dumplings: Meanwhile in bowl, whisk together flour, baking powder parsley and salt. Stir egg yolks into reserved cooled cooking liquid; drizzle over flour mixture. With fork, toss to make sticky, stretch dough. Increase heat to medium, Drop batter, evenly spaced in 8 mounds, onto stew; cover and simmer until puffed and knife inserted into centre of dumpling comes out clean, 8 to 10 minutes.