This is and has been my go-to recipe for chocolate chip cookies since, well, really I started baking for myself at all; I consider this one tried, tested and proven.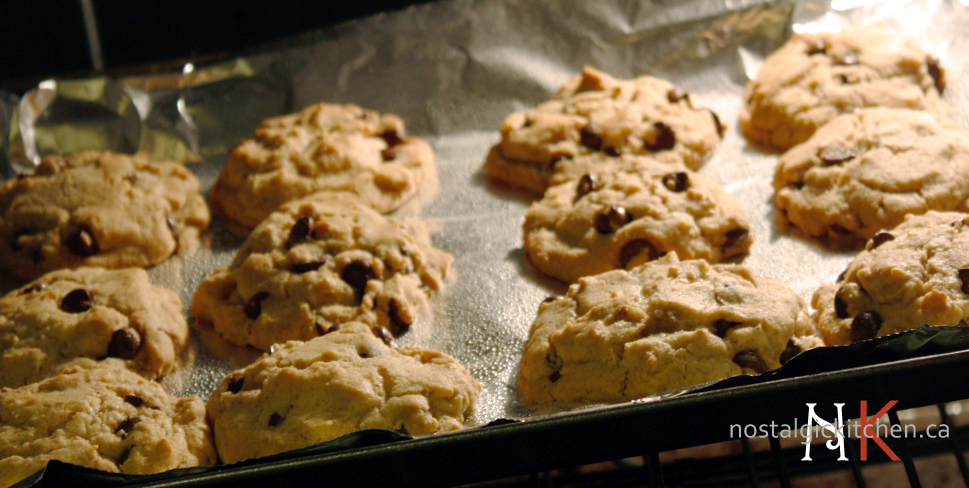 Cookie perfection in this case, to me means not overcooked, slightly chewy chocolately goodness, mmmmmmmmm… The key to that in this case is not to overbake.
PREP TIME: 

15 min

    COOK TIME: 

8 min

   TOTAL TIME: 

23 min

    YIELD: 

18
Ingredients:
1 cup non-hydrogenated margarine, NOT melted (or substitute butter, softened)
1 cup semi-packed brown sugar
1/2 cup white sugar
2 tsp vanilla extract
2 eggs
2 1/4 cups all-purpose flour
1/2 tsp salt
1 tsp baking soda
1 package semi-sweet chocolate chips
Preheat oven to 375 ºF
Beat margarine, sugars, vanilla, and eggs until light and fluffy.
Mix in flour, salt, baking soda (by hand) until well blended. Stir in chocolate chips.
Drop by heaping teaspoons onto ungreased cookie sheet, about 1 1/2 inches apart.
Bake for 8 to 10 minutes, or until just lightly browned. Transfer to cooling rack.