As far as bread recipes go, I consider this one relatively quick and easy.  Though (*disclaimer*) the dough still requires some time to rise, so it's not going to be a magical solution a serious time crunch for a quick dinner, unfortunately.  That is, unless you make this ahead and have it ready in advance.  This makes recipe makes too much for a dinner with just me and my husband, so more often than not I'll freeze half the dough for another time.  Just defrost in advance, and pick up from Step 4 below.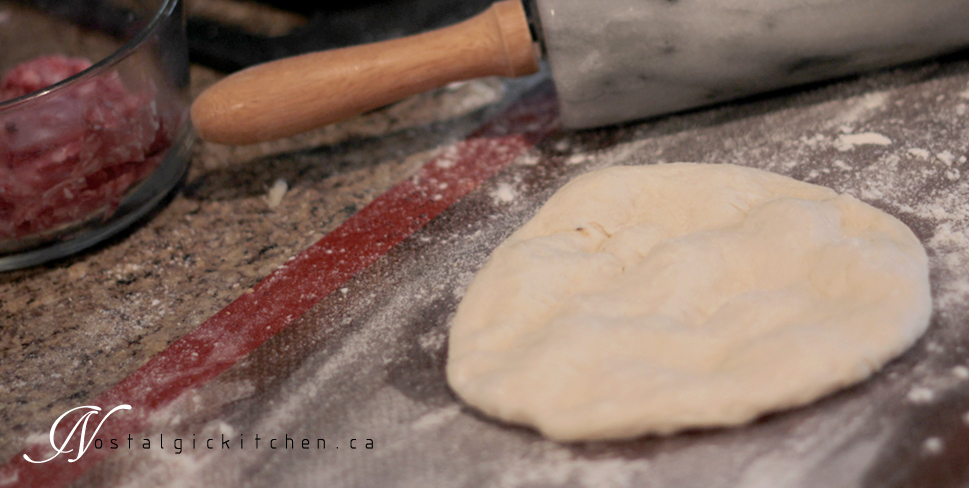 PREP TIME: 

COOK TIME: 

TOTAL TIME: 

1 hour    

YIELD: 

2 crusts
Ingredients:
2 and 1/4 tsp of active dry yeast (or 1 package)
1 warm water (~110F)
2 tbsp extra virgin olive oil
2 and 1/4 cups white flour
1 tsp salt
2 tsp white sugar
 Directions:
Dissolve yeast in 1 cup of warm water (Note: if the water is too hot, it can kill the yeast and the dough will end up flat and hard as a rock… trust me I learned this sadly from experience).  Let stand around 10 minutes, until the yeast is creamy-looking.  Add 2 tbsp of olive oil to the cup of yeast and water.  (Also make sure your yeast hasn't expired, as it won't rise properly… yes I learned that lesson as well)
In medium-large bowl combine flour, salt and sugar.  Stir in the yeast mixture and mix until a ball of dough forms.  (Just an aside, this is both quicker and easier if you use a stand mixer with a dough hook… it requires much less elbow grease).
Splash the dough-ball in a bit more olive oil just to coat and make it a bit less sticky and help the ball from drying out, then set aside in a covered bowl in a warm place to proof until about doubled in size, or 30 minutes.  I like to turn the oven on such that it's just slightly warm, then put my bowl in there while the dough rises.
Preheat oven to 350 F.  Turn out the dough on a well-floured surface.  Split dough into halves for making 2- 12″ diameter crusts; quarters for 4- 8″ diameter crusts; or leave as whole for one rectangular 16″ x 10″ pizza pie on a cookie sheet.  Roll dough to about 1/4″ thick.  Prep pans by coating with olive oil and adding a light sprinkling of cornmeal– this provides a fantastic crisp crust and helps the dough from baking to the pan as well.
Once in the pan(s), add sauce and favourite toppings then bake in a preheated oven for about 20 minutes, or until golden brown.  OR if making ahead, portion out dough after it has proofed and freeze for future use.
Is it hot outside and/or looking for pizza that's a little different?  Consider trying it on the BBQ.  Instead of Step 4 above, roll the dough quite thin ~1/8″, and (this is absolutely important) make sure to have all your toppings prepared and ready to go.  This all happens really fast, so preparation is key.  Make sure the grill is quite hot (550F), brush one side of the dough lightly with olive oil and place the dough carefully directly on the grill for 4 to 5 min just until the it firms up and has some light grill marks.  Brush the other side of the crust with a little olive oil and turn over.  Now, put sauce and desired toppings on the crust and grill for another 5-6 minutes until bottom is browned.  The crust is amazingly crispy when cooked this way.  Enjoy!