A great combination of rosemary, garlic, mushrooms, beef favours, with a thick rich Guinness sauce. YUM. I keep Guinness in my fridge solely for this recipe. It`s definitely not because me or anyone else in this house drinks it…
The perfect dinner, and lunch the next day… This also makes for an easy meal when made in larger batches, and frozen for future dinners/lunches.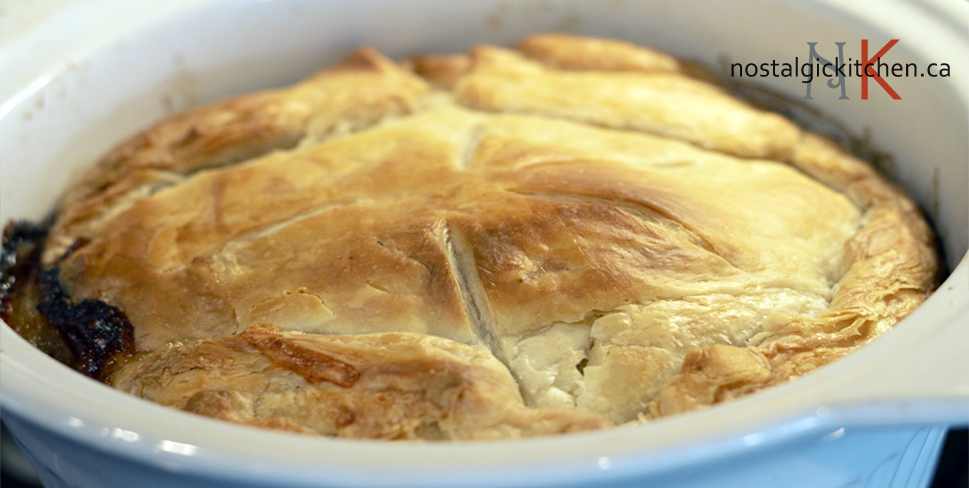 Thank you Jamie Oliver for this recipe as the starting point! I made this the very first time, pretty much following the directions and it was fabulous, except that the meat I`d use was a poor cut, and a bit of a jaw work-out. The next time I made it, I was feeling particularly lazy and decided to just throw it all in a slow cooker, then finish by baking in a pie shell. Unfortunately it turned a bit mushy, and some of the flavours were a bit muted, as can happen with a slow cooker. The last time I made this, I did a hybrid of slow cooker and stove top cooking, which worked out quite successfully.
PREP TIME: 

20 min

  COOK TIME: 

4 min

  TOTAL TIME:

 24 min

   YIELD: 

2 pies



Ingredients:
1.5 lbs beef (cut into 1 inch pieces)
Prepared puff pastry
3 onions diced
1 1/2 tsp dried rosemary
3 cloves of garlic; minced
1 tbsp butter
2 sticks celery – finely sliced
2 carrot sticks – peeled and sliced
2 cups mushrooms, sliced (any kind, I used shitake and crimini)
1 can Guinness
1 heaping tbsp flour
1/2 cup beef stock
2 handfuls of shredded white cheddar cheese
1 egg, beaten with a fork
1/2 cup peas
Break out the slow cooker, turn to high and add Guinness and beef pieces. Let that cook for about 3 hours.
Sauté onions on the stove top with a little olive oil, salt and pepper until slightly browned in a deep pot. Then stir in a sprig of rosemary.
Add 1 tbsp butter, celery and carrots, mushrooms. Cook until carrots are al dente and mushroom liquid has reduced.
Add beef and all juices from the slow cooker, and minced garlic. Season with pepper and salt as desired and stir in 1 heaping tbsp flour. Pour in beef stock to top off stew. Add peas to the mixture and simmer for 10-15 minutes.
Stir in 1 handful of shredded sharp cheddar or monterey jack cheese.
Roll out puff pastry and line the bottom of an oven safe bowl or pie pan that is about 4 inches deep and 8-10 inches in diameter with the puff pastry; pour in the stew filling.
Sprinkle the other handful of shredded cheddar cheese on top of stew filling.
Brush the outer edge of the puff pastry with the beaten egg (this will act like glue when you put the top on).
Cover with another piece of puff pastry that has been lightly scored with a knife. Press around the edges so the top puff pastry is sealed to the bottom puff pastry. Fold in excess puff pastry that is draping over the bowl/pan so it has a crinkled look on the top. Then brush top with beaten egg.
Bake the pie in the oven at 375 degrees for 30 minutes or until bubbly and golden. OR, at this point, cover, label, and free for a future dinner.
To cook after freezing, thaw (in the fridge), then bake at 375 for about 40-50 minutes.
Just one last note, I have made this recipe with pie crust (as a meat pie) instead of puff pastry, it was also very good but I will say I prefer the puff pastry!