These were a pleasant surprise tonight! While I've never made anything quite like this before, I mainly just wanted to use up some zucchini that I had frozen last fall (see "What To Do With Zucchini"). We are attempting a No Spend Challenge for the month of February, with the intent to use a lot of the food currently taking up space in our pantry and freezer.
The hint of cloves/cinnamon make this recipe work very well! This is definitely a keeper. If muffins aren't your preference, this would also make a good chocolate zucchini loaf, or bundt cake. Just increase the cooking time to ~55 minutes.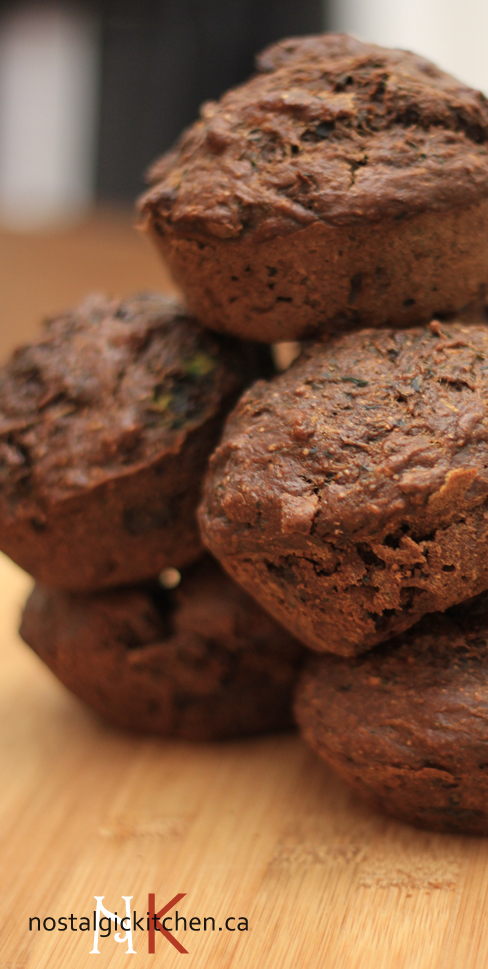 This was a new (to me) recipe, slightly modified to suit the ingredients I had (and didn't). I actually didn't have any honey on hand, so (right or wrong) I substituted a mix of white sugar and water. I've also been experimenting recently trying to substitute palm sugar in place of brown sugar, just for kicks- I will say I think it worked here.
PREP TIME: 

15 min

    COOK TIME: 

40 min

   TOTAL TIME:

 55 min

    YIELD: 

8
Ingredients:
1/4 cup canola oil
1/2 cup of plain or vanilla yogurt
1/3 cup honey
1/2 cup of brown sugar
2 eggs
1 tsp vanilla extract
1/3 cup buttermilk (or mix 3/4 tsp of white vinegar with regular milk, and allow 3-5 minutes to sour)
1 cup all purpose flour
1 cup whole wheat flour
1/4 cup unsweetened cocoa powder
1 tsp baking soda
1/2 tsp baking powder
1/2 tsp salt
1/2 tsp cinnamon
1/2 tsp ground cloves
2 cups approx shredded zucchini (if frozen, be sure to thaw and drain excess liquid)
1 cup semi-sweet chocolate chips
Directions:
Preheat oven to 325 degrees F.
In large bowl combine oil, yogurt, honey, sugar, eggs, vanilla, and buttermilk and mix until well blended.
In separate bowl, combine remaining dry ingredients and mix well.
Add dry ingredient mixture gradually to wet ingredients, mix.
Fold in zucchini and chocolate chips until just combined.
Pour into greased muffin tins, bake 40 minutes or until toothpick inserted in center of muffins comes out clean.