I'm still over the moon with my recent discovery of Garlic Scapes.  Craving some garlic'y pasta goodness, I decided to try  my hand at Garlic Scape Basil Pesto.  I adapted my regular go-to recipe for Basil Pesto for the substitution.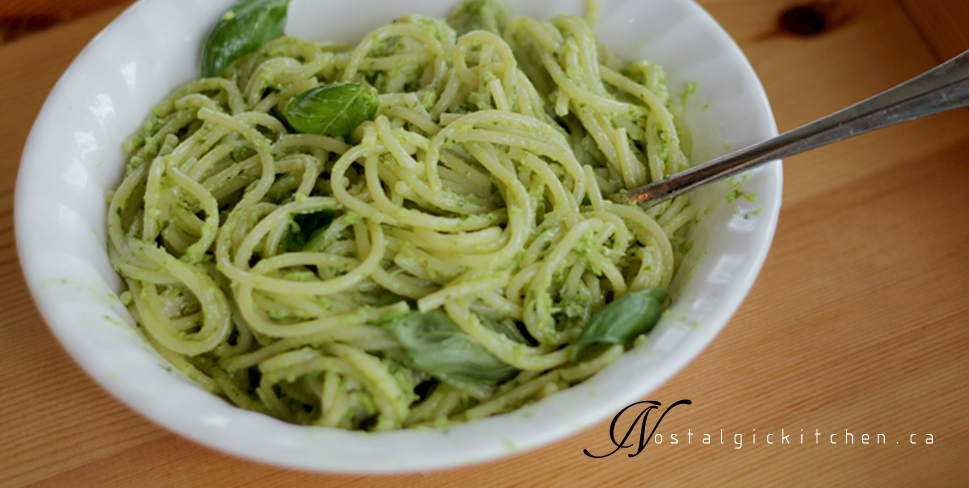 PREP TIME: 

COOK TIME: 

TOTAL TIME: 

15 min    

YIELD: 

~2 cups
Ingredients:
7 to 8 large garlic scapes
1  and 1/2 cups fresh basil leaves
1/2 cup pine nuts
1/2 tsp salt
1 tbsp lemon juice
1/2 cup extra virgin olive oil
1/2 cup grated parmesan cheese
 Directions:
Cut garlic scapes in approx 1/2 inch to 1 inch long pieces then add to food processor, along with fresh basil leaves, pine nuts, salt, and lemon juice.  Process, and gradually add olive oil and mix until mixture is a fine consistency.
Add grated parmesan and mix to combine.
Stir the pesto into your favourite cooked pasta, or portion and freeze for future use.