It may not be a mainstream menu item in most restaurants, but over the last couple of years I've enjoyed a few different variations of the Warm Potato Salad while eating out. Craving something dilly and in anticipation for company coming over for a BBQ dinner– I went on the search. In my travels, I came across this Earl's copycat recipe from Playing with My Food. It was the beginning of something amazing. I've made a few modifications to make it more to my tastes.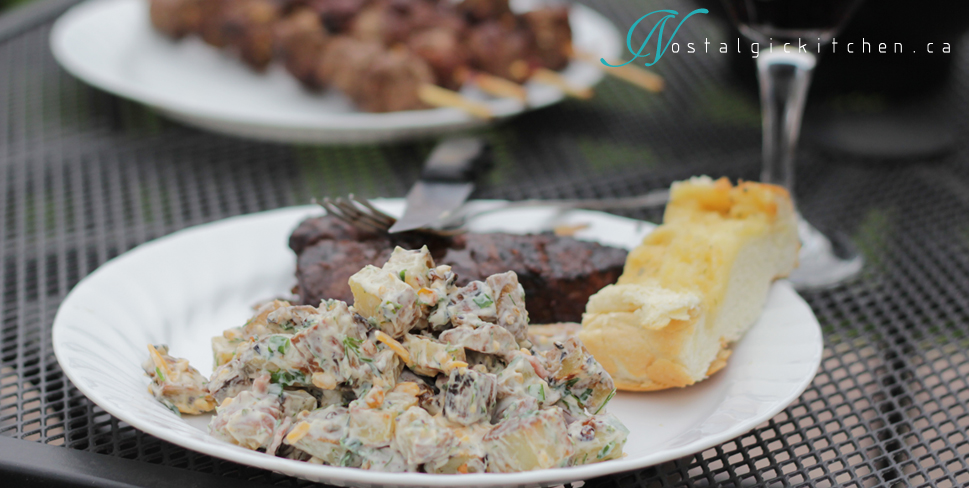 My better half is not a fan of cold salads in general, unless it's of the lettuce variety then it might be tolerable. So, I was glad when he embraced the idea of this warm salad. BBQ season around here is definitely well underway and so far this has become a new staple in this house.
PREP TIME: 

COOK TIME: 

TOTAL TIME: 

YIELD: 

4 servings
Ingredients:
4 to 6 medium to large russet potatoes
Kernels stripped from 1 to 2 cobs of fresh corn; approximately 1/2 cup
5 cloves of garlic, minced
2 tsp olive oil (or just enough to lightly coat vegetables)
1/2 tsp each salt and fresh ground pepper, or to taste
5 to 6 strips of cooked bacon
1/2 cup mayonnaise
1/2 cup plain greek yoghurt or sour cream
1 tsp lemon juice
1/4 cup fresh dill
1/4 cup fresh chives
1/2 cup grated sharp cheddar cheese
 Directions:
Preheat oven to 425F.  Do not bother peeling the potatoes– wash them well, but leave the skins on.  Dice potatoes in approximately 1/2 inch pieces.  Strip fresh corn kernels and combine with potatoes and minced garlic.  Using frozen or canned corn would not be a deal-breaker, but why not fresh if it happens to be in season.  Season with salt/pepper and lightly coat the mixture in olive oil.  Bake for ~30 to 40 minutes until potatoes are soft when a fork is inserted and their outsides are beginning to get crispy and golden.  Alternatively– if you're short on time and don't want to wait, you can microwave the potatoes prior to dicing them on the 'baked potato' setting, and this should cut your bake time down by 10-15 minutes.
Meanwhile, chop bacon, dill and chives.  Combine the remaining ingredients, mix and set aside to use when the rest is ready to come out of the oven.
Important: do not mix the sauce in until you're just ready to serve.  Also a note of caution– the texture of the sauce changes not for the better (thus is the nature with mayonnaise) when the mixture is reheated, so avoid if possible.
Enjoy!