These wraps are lovely!  It's a great use for leftover chicken (or turkey) Even without the wrap (or even the chicken really), the star of this post is the salad and dressing, which would make a great side-dish just own it's own.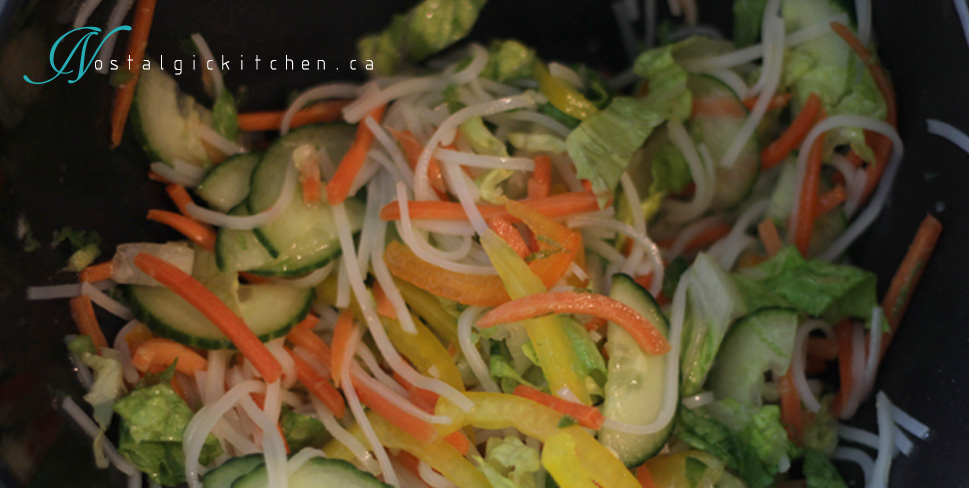 This recipe is just one of a handful of reasons why I recently ventured out into the cold last week and picked myself up a copy of Jamie Oliver's "Save with Jamie" cookbook.  I'm skipping a bit ahead in the story, let me go back…It was a typical Saturday late morning and I was perusing the TV channels, looking for something interesting to keep me from doing anything productive.  I stopped when I came across an episode of Jamie's Money Saving Meals (considering anything with Jamie Oliver is pretty much guaranteed to be entertaining… with phrases like "just wazz it up" and "bang it in my gob", how can you go wrong?).  Anyway, this episode included a version of this wrap spotlighting leftover chicken as a budget-friendly option (and also a couple other recipes that looked very intriguing).  End result is this book made a nice addition to the collection and I've acquired some new/easy dinner ideas that I'm quite excited about.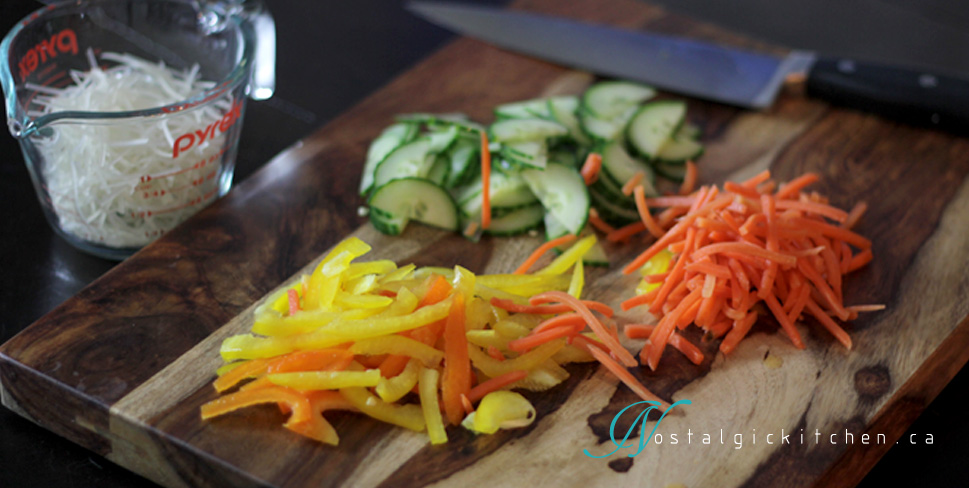 PREP TIME: COOK TIME: TOTAL TIME: 30 min YIELD: 2-3 servings
Ingredients:
leftover chicken (about 1/2 c or however much you have), pulled apart so it fits reasonably in a wrap
1 tbsp hoisin sauce
2-3 10″ soft tortilla shells
Salad:
1 cup fine rice noodles (cover with boiling water, drain after 5-10 min after noodles have softened)
half of a yellow pepper, finely sliced (about 1/3 cup)
1/2 cup cucumber, sliced
2 tbsp green onion, sliced
1/2 cup carrot, julienned
1 tbsp fresh chilli pepper or jalapeño pepper
4 large leaves romaine or other green lettuce of choice, sliced
grated zest from half a lime
Dressing:
1 tbsp olive oil
juice from half a lime (about 3 tbsp)
1 tsp sesame oil
1 tsp sweet chilli sauce
 Directions:
In medium frying pan, over medium heat, combine chicken and hoisin sauce and re-heat until chicken starts to go crispy/sticky (~10 minutes)
Meanwhile, mix together dressing ingredients.
Combine salad ingredients and toss together with dressing.
Now, the fun part, stuff the wrap with a little chicken and a whole bunch of salad– a little more than what you think you can reasonably fit into a 10″ tortilla shell
Garnish with a little cilantro and/or sesame seeds if you're feeling fancy, wrap it up then do your best and try to eat it without making a mess.  It's best if served immediately (otherwise the tortilla can go a little soggy).