I am not a fan of broccoli in general. However, this casserole is so good that I don't really care that there is broccoli in it. I came across a version of this recipe while surfing for new things to try quite some time ago, and after a few tweaks, this recipe has now found its way into my elite collection of favorites.
Served with brown rice on the side, this made for a hearty supper tonight… and will be just as good for leftovers tomorrow.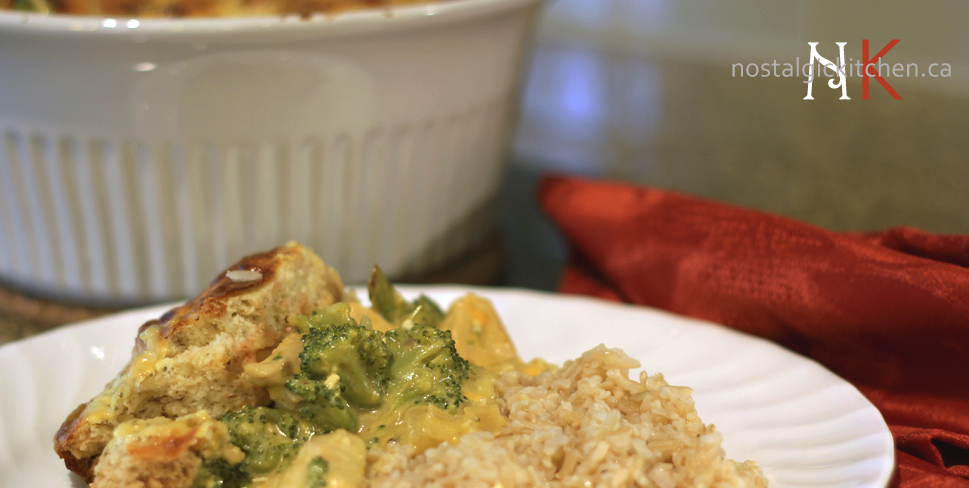 PREP TIME: 

20 min

  COOK TIME: 

45 min

  TOTAL TIME: 

1h 5 min

   YIELD: 

4
Ingredients:
Casserole:
1 can cream of mushroom soup
1/2 a large onion, diced and fried
1/4 cup mayonnaise
1 1/2 tsp Worcestershire sauce
1 tsp curry
2 chicken breasts, diced and cooked
1 cup steamed broccoli, chopped
1/2 cup sharp shredded cheddar cheese
Biscuits:
1 1/4 cup all purpose flour
1/2 cup whole wheat flour
1 tbsp baking powder
1/2 tsp salt
6 tbsp chilled margarine
3/4 cup milk
Topping:
1/4 cup sour cream (or plain yogurt)
1 egg
1 tsp celery seed
1/2 tsp salt
For casserole, preheat oven to 375 degrees F.

Cook diced chicken and onion until no pink is remaining. Meanwhile, also steam broccoli.

In a deep dish 8 inch diameter pan, combine cooked chicken, broccoli, soup, onion, mayonnaise, Worcestershire sauce and curry. Mix well. Sprinkle cheddar cheese on top and stir slightly. Bake for 20-25 minutes.

For biscuits, mix dry ingredients then cut in margarine until mixture resembles the size of small peas. Make a well in the center then add milk all at once. Mix the dough until it just comes away from the sides of the bowl. Turn dough out on floured board, then roll between 1/4 inch and 1/2 inch thick. Cut with round cutter (or a glass works well for me).

Cut round biscuits and each in half, into semi-circles. Arrange biscuit halves around edge of hot casserole. Combine topping ingredients, and pour topping over biscuits.

Bake at 375 degrees for an additional 20-30 minutes or until golden brown.

Cook any remaining unused biscuits at 450 degrees F for about 12 minutes until lightly browned.